This body (the twin of Muninn) has been cut out and ready for finishing for over twelve months now, since I began the Muninn build. Most of my time recently has been spent on a couple of personal projects, but I felt it was time to crack on with this project now.
As these two builds have drawn inspiration from two Ravens, a dark finish is a necessity. To set Huginn aside from its twin, I have decided to go with a lighter finish and gold hardware instead of all black.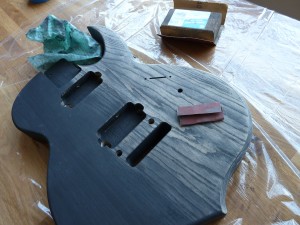 The body has gone through the same black-dyeing process as Muninn to highlight the heavy open grain of the Swamp Ash. This is then sanded back to 220 grit revealing a much darker figuring where the more open-pored grain retains the black dye. For Huginn though, this has been done on the face and bottom chamfer of the guitar only, the back and sides remain fully black.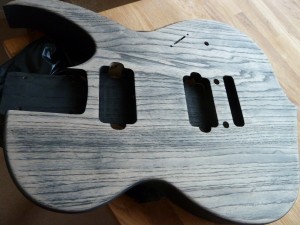 My intention is to then finish the body with a trans-white Wudtone product. The full black of the back and sides should form a dark grey finish and the top will hopefully be a lighter ashen-grey with dark grain highlights (lowlights??).
The bottom chamfer in this case will act as pin-stripe highlighting the natural timber as it will not be finished in the trans-white coating at all. This will leave the thin strip with a dark-grained amber-gold edge which will complement the gold hardware nicely.
This chamfering was designed originally to give the bottom profile of the Raven body a sharper defined, blade like edge. Taking inspiration from other guitar builders, I toyed with the idea of having a strong contrasting colour along this chamfer, like a red or navy blue, but did not want this aspect to be over-bearing. The natural finish will act like a window into the timbers character underneath.
The next step will be to inlay Raven silhouette design into the fretboard. This will be quite large and will be centered on the12th fret, maybe spanning across frets 10, 11, 13 and 14.
Social tagging:
Huginn
>
Raven